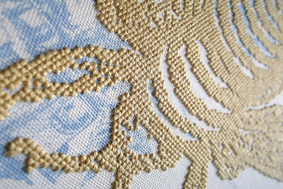 All about Counted Cross Stitch Patterns
People who are beginners at cross stitching often have to decide between two types of kits: counted and stamped. Both patterns yield the same results. There are x-shaped neat stitches in each pattern and it all depends on the personal choice of the person.
To be able to create a pattern in counted cross stitch, the embroiderer would need a fabric with high thread count. The greater the number of stitches per square inch, the more intricate the details would be. Also, the embroiderer would have the choice to incorporate more colors in the design. Finally, there is a wider range of sizes in the counted cross-stitch patterns.
The extent of detail that can encompass in a counted cross-stitch pattern can make it look like a painting. This is why many people get their finished work framed and hung on the walls. Counted cross stitches in a design are a very complex form of embroidery because in this you have to complete a certain design in a particular count of the stitch. If you exceed the number of stitches promised then you will have to remake it or increase the number of stitches that you promised.
How to make a Cross Stitch Pattern:
Stencils that are used to make counted cross stitch patterns are a tad difficult to handle especially when you have a specific limit on your stitch count but today internet has made this work easy for you. There are thousands of patterns for people in all kinds of categories available on the internet. These patterns are very detailed and they have specific forms and dimensions that are made in such a way that it becomes easy for the embroiderer to make the designs with multiple stitches. Cross stitch patterns are hard to make especially when it comes to embroiderers that are new to this work. This is where a detailed concept of cross-stitch pattern comes in. These patterns could be made with the help of a professional embroiderer but if you want to put in some effort and channel your inner creativity, you can do the stitching yourself too. You can download these patterns from the internet and practice a little to get everything down on the fabric perfectly. These patterns are available in all forms of designs and shapes with different counts of stitches in them. You can use bold stitches with lesser thread count or you can get intricate stitch patterns with a larger number of stitches involved in them.
Why are Counted stitch Patterns Important?
The quality of a fabric is determined by its thread count. 1000 thread count Egyptian cotton is popular these days and the embroidery on it adds to the overall lavishness of the material. These counted stitches increase the value of the material especially if the designs are excellently made and the neatness of the stitches speaks for itself. There are different kinds of designs that are not of so much importance if you make them with a simple stitch pattern but if you make them with a specific thread count cross stitch pattern than it is easy for you to complete the design at a good price as well.
Popular items for Cross Stitch Patterns:
There are various items that sell more in the market as compared to the other common stuff. Bedspreads, quilts, throw spreads for sofas and designs for interior décor are one of the hottest items in the market when it comes to counted cross stitch patterns. Other embroidered goodies can also make for best sellers for market sale when it is the holiday season especially if they are designed by keeping the holiday special items in consideration.
Classic Designs in Cross Stitch Patterns:
Cross stitch is one of the best forms of art and craft especially if it is used for the creation of classic designs that can be framed as pictures to decorate the interior of your house. The patterns for these designs are hard to find but if you look for classic designs in cross stitch then you will come across some good websites that can help you make the pattern or provide you with some good design patterns on their own. Download these patterns and start working on them keeping in mind the count of the stitches the designs require. This is complicated work and needs concentration if you want your design to be good and neat. It is not easy to make the promised counted stitches in cross stitch but with a little effort, you can accomplish it and the end result is worth all your research, time and hard work