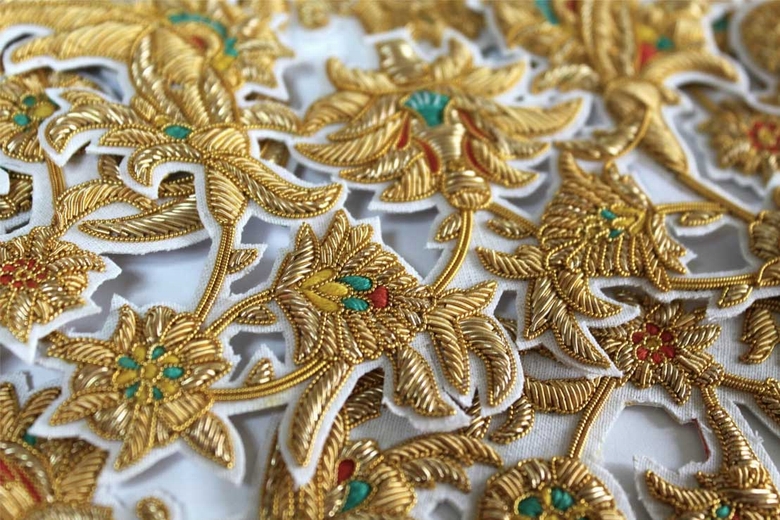 Things to Know about Iron on Patches
When it comes to embroidery, you need to make sure that every aspect of it comes together with such harmony that the design and its components stand out on the fabric showcasing your artistic abilities and aesthetic sense to the fullest. The tools and equipment needed for embroidery are quite simple but they play a vital role in the presentation in the end when you are finished with the design and coloring.
Thanks to machine embroidery, brightly colored and antique embroidered patches are now available in the market. These patches can be used to adorn all kinds of fabric in a number of different ways. For instance, you can simply stick them on with glue, sew them in place, use pins to keep them attached to the fabric or use an iron to press the patch onto the fabric.
While some hand embroideries are done on specific different patch materials like leather, polyester or net etc. These patches are ready to be used on dresses, cushions, table covers and tote bags. You can make these patches on any kind of material depending on the design, style or texture that you want to create. Iron on patches are convenient to use since they don't require elaborate thread and needle work to keep them in place.
Iron on Patches:
When you decide to use an iron on patch, find out what kind of backing it has. Some patches have dry glue at the back while others have fabric. Check the back carefully and find out if you require additional supplies to fix it in place nicely.
Patches that have a lot of embellishments are thick, stiff and covered with plastic glue at the back. Patches with a non-glossy transfer paper at the back don't cover the fabric properly and the fabric will show through if the patch is not applied on a white background so you need to be careful about it as well.
Cloth backing is easy to use with fusible web. Also, the patches can be used to cover discolored or ripped fabric, stains or holes.
Cotton and denim are the best fabric types for iron on patches. A general rule of thumb is that the fabric should be heavier than the patch. Also, check the label of the fabric and make sure that it is safe to iron it. Take special care while ironing polyester based fabric as heat can cause it to shrivel, burn or worse- discolor. Silk, organza and chiffon are also delicate fabric types that are not good options for iron on patches.
Iron on patches can be used on almost all kinds of fabric expect polyester materials because they tend to stick or shrink when in contact with hot iron. Iron patches have dry glue on their back which when heated melts immediately causing it to seep in the material sticking permanently to it. This glue is not going to damage the material in a way and it dries almost immediately after the heat is removed. This is one of the simplest and the easiest way of getting your embroidered work on the material of your choice. This method is mostly used when you need to make cushions or quilt or sometimes kid clothes or cool T-Shirts etc.
How to Get Iron on Patches
There are different online stores that sell a huge variety of iron on patches. You can buy them easily and paste them onto the sash, T-shirt or backpack of your choice. You need to make sure that the patch is in the right place before you place the iron on it to stick it permanently because any faulty move on your part and all your hard work will get blown away because these patches are very hard to remove once they get stuck on the material. So be careful and use the help of an adult if you want to have an iron on patch to help you complete the process without any error.
Precautions used when Dealing with Iron on Patches
These patches are easy and handy, but they do need some precautions that you must follow in order to save your patch as well as the material you are using it on. Firstly you should never apply the iron directly to the patch or the material it is attached to. This will not only cause the patch to burn, but it could be dangerous too if the material you are dealing with is polyester or leather either faux or the real one. Hot iron not only damages the material but also burns the threads of the embroidery to ashes causing them to lose their touch too. So always use a towel or another material like cotton etc. over the patch before you apply the heated iron on it. This protects the patch and its material. To secure the patch in its place before applying an iron to it use pins to hold it down in its place then proceed with the process. This makes it more precise and leaves little room for mistakes.