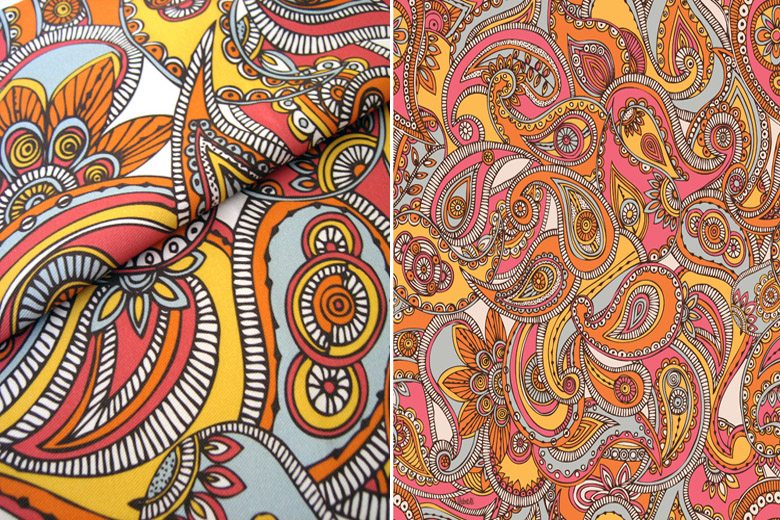 It is not possible to make a fabric at home, but it is certainly possible to create your own designs and prints of fabrics. The textile industry has modernized to a great extent but still there is huge possibility that you may not find your desired design from any place. Sometimes unavailability of desired prints and design can cause frustration. But now it is not the big issue because you can make your own fabricprints.
Get the Right Software
First of all install a photo editing tools on your personal computer. There is lots of software that can help you to design your own pattern. You can use Woven Monkey because it is specially designed to create interesting fabric pattern. It is not very difficult to use this software. If you want to create your own design then you must know how to use simple photo editing software. If you can use this kind of software then you can look into quick learning tutorial videos of these software tools. If you are not good with computers but your drawing skills are good then you can also make the sketch of the fabric design. But in the end you will require someone to draw the same design with any related software tool.
Select The Right Company
After finalizing the design next step is the selection of the right company to give the order. There are lots of companies out there that can do this job for you. It will be cost effective if you give a bigger order. Some companies don't even accept the small order because of low-profit-margin. This step is the biggest hurdle to make your own fabric design because these companies are located only in few countries and it is difficult to find the reliable company that delivers the exact design in right time. Therefore, it is recommended to select the company that is located in your country or state and it will be best if you make a visit to their office.
Use Home Printer
You can do both, designing and printing, with the help of personal computer and home printer. If you want to print a small piece of already woven fabric like T-shirt then you can do it at your home. The crucial part in this technique is the selection of paint. There is a wide range of fabric paints available on various online stores and you can select anyone according to your budget. Expensive paint will survive for a longer period of time. Purchasing of paint should be done after the designing of a pattern because at that moment you will have better knowledge about the number and quantity of different colors. If you want a temporary print then go for the non pigmented colors. You can get it easily from market. This type of color does not stay long on a fabric and after few washes your fabric will be free from any kind of print. If you want a permanent print then pigmented colors will be best for you. You can add pigments in ordinary color to make them more permanent. It will be better if you print a white shirt to test the quality of color and appeal of the design. Wash the white shirt with bleach and washing soda for at least 15 minutes to make sure that odors are permanent. Yes, it will cost you some money but it will save you from future troubles. After printing, leave the fabric to dry color, it is very important to keep the fabric straight to avoid any kind of color distortion.
You can also make a design at your home without printer. For this purpose, take the print out of the design and sketch it on the fabric. Use tailor's chalk or soap piece for the marking. After that use hand brush and water colors of high quality to make the design. In this case quality of design will depend on your drawing skills. So, you can get professional customized fabric prints with the help of fabric manufacturer but you use your own skills to give your clothing articles and other fabrics a new and exciting look.