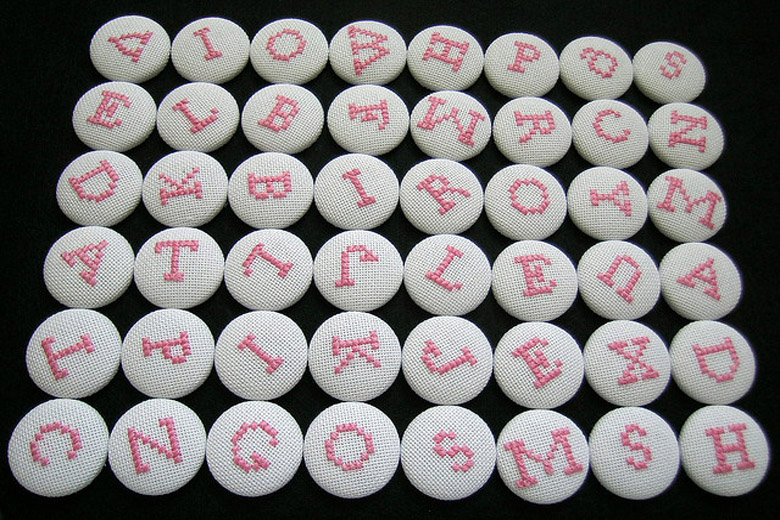 Cross stitch embroidery has a huge variety in multiple designs. It is a unique kind of work that makes figures dramatically portrayed over the canvass. This created work has been famous in generations. In old days, people did it at home and décor their home items. Girls loved to take this task and design multiple items. With the revolution of industry, the trend became increasingly popular on a commercial level. This work is unique in the sense its designs looks very delicate and specific fabric is used for this purpose. When variety is introduced for cross stitch, it came across every type of designs i.e. nature, imaginary, artistic, numeric and alphabetical.
Cross stitch letters are specially designed for new beginners, for children to learn, or for decorative purpose. Cross stitch kits contain this as a necessary element, which upon designing can be utilized and personalized. This is a unique system of color combination, aesthetic sense and need to be based.
Material specifications:
Specific kind of fabric called Aida is used in this as a base. This is, particularly because it is a stitch count facilitator. Embroidery floss comes in many designs that are an essential part of the cross stitch. Floss is available in six strands usually, that has many bright colors. Tapestry needle i.e. in which desired threads are threaded after selection of a number of threads. The hoop is required for keeping the fabric at the place and the important one i.e. alphabets.
Letter categories:
Cross stitch letters exist to cope up with the need of many designs. Letters and numbers are employed in a variety of designs to put the desired impression of drawing. Alphabets patterns have some categories. Graphic alphabets, line alphabets and block alphabets.
Line letters or alphabets are constructed with the back stitches. It is also called fine line or a mini line below. Full and partial cross stitches are employed in block letters. Each letter line is wide as of single stitch. It can also take multiple stitches to configure the letters.
In Graphic letters, individual character is portrayed by using a graphic image. It appears beautifully just like a tiny flower. Picture letters represent some individual character and some interesting images.
Stylized letters:
Among a huge variety of cross stitch stylized letters, some are discussed here. These are not only functional but also add beauty to required design. Stitcher can alter the letter color as per style and contrast. The most sought after designed alphabets are counted cross stitch alphabets. These are utilized by monogramming the dresses and other accessories.
Ordinary linen can be transformed to extraordinary by implementing letters. If you got an idea to print your name, then vertical strokes must be at 90 degree angle to the horizontal ones. Cursive writing needs letters to be written in slant.
These cross stitch letters are usually printed in the same color. Color combination is adjusted according to the taste. For light and delicate designs, script format of line letters is used. In weighty and bold design, usually block letters are used.
Elongated letters are available at different websites. These are very easy to stitch alphabets that are specifically used on cross stitch and back stitches. Floss color must be used in accordance to the project color.
Happy Halloween letters are very famous in designing the dresses of little ones. Kid's dresses and accessories are decorated in enchanting ways. Similarly holly alphabets are used for celebrating the event. It enhances the beautification, divinity and sense of the occasion.
Block letters are in the style of writing commonly used in Microsoft word. It is complete and partial cross stitch letters. These give traditional look and are easy to stitch.
Floral letters are very pretty and attractive. These are frequently used in designing baby garments and room accessories. Tiny flowers meant to adorn the fabric. Flowers can be sprinkled around the alphabets, or just put on the corners of alphabets. Curly cross stitch letters are very popular in designing. These are fancy letters and make your design more fascinating. Only by changing the floss color, great variety can be bought into project.
Freedom alphabets are showing pride and strength. These are usually used to support troops and army i.e. symbol of strength.