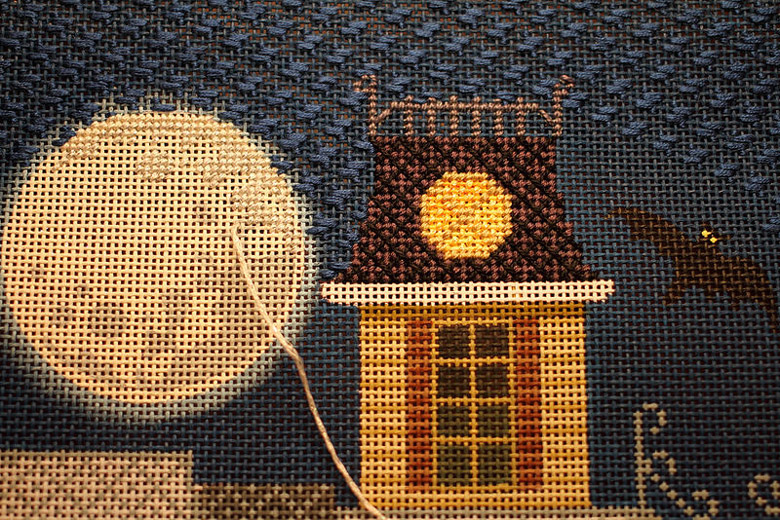 Embroidery is the world famous art. It is famous in almost every country of the world. In different styles from region to region, on different fabrics, with unique combinations. In early days, people used pointed things for making holes in the hard fabric. Later on, pointed articles got versatile and newer improved things came into being. As the more and more fabric variety introduced, embroidery patterns become more stylized. Delicate patterns caters demand stylish dresses. Embroidery is done on every type of fabric depend upon the nature of the occasion.
This work has its deep rooted in Egypt. It has been a popular craftwork in the 16th century. Thread work, bead work and motifs are used to embellish dresses. Needlepoint is in existence since centuries and a traditional craftwork. Wealthy families used to wear embellished items and decorate the house with embroided accessories. It is basically a counted thread type of embroidery. In this type of embroidery, the thread is stitched through a stiff weave canvass with the help of tapestry needle. Its designs are spread over the type that cover almost all the canvass. This work is in huge variety and patterns.
Underlaid mesh canvas matters great in counting the thread by needlepoint. It is basically the cross stitch embroidery that deals with how to needlepoint. Needlepoint designs are painted and crafted into the canvass. Cross stitch patterns are also called charts that are available in unique designs. Penelope is two thread canvass that is used for needlepoint work. Interlock and mono canvass also serve the same purpose.
It is also called counted thread embroidery. Petit point refers to those needlepoint work on the fine canvass. The inherent stiffness of the needlepoint causes its more use on home accessories, i.e. wall hangings, upholstery, pillows, purses, ornaments, eyeglass cases and purses. The stiff open canvass is used for applying different techniques of stitching.
Materials to deal:
Aida fabric is particular for cross stitch. It is best suited for the embroidery because of its even space count thread. Other material used for stitching are wool, cotton and silk. Canvass variety is differently used for specific purpose. For instance, the mono canvas is plain woven, is very famous for counted thread canvas work.
Rug canvas is a strong fabric and is a mesh of cotton threads. Scroll frame is used in needlepoint work usually. It is tacked onto a wooden frame that helps to start work during stitching. Plastic canvas is also used for beginners, as it is easy to cut and stitch. It is generally employed for smaller projects. Different stitches are easily practised over it.
Needlepoint has a great diversification. New techniques, stitches, artwork as per desired can be designed. This work is intermingling with other embroided work in such a way that it has become difficult to draw a separate line between needlepoint work and rest of the embroided work.
Needlepoint designs are in many different styles of stitches. Many websites are now introducing easy to follow needlework. Tutorials are also facilitating new beginners and those who are expert. Needlepoint work encompasses a wide range of artwork, threaded embroidery, and stitch technology.
Needlepoint designs are many: some are discussed here. Printed canvas is done by heat transfer, painting on the silk fabric. Needlepoint is composed of many steps, i.e. stab method and sewing method. Moving the hand back and forth against canvass, is stab method. This method is quite fruitful when stitching desired designs. Scroll bar and frame is used in this method which are more effective in carrying out the task easily. This method ensures the exact placement of stitch and fabric is not distorted.
How to needlepoint is a matter of interest. The other method is sewing method. It is preferably done by those who can handle the cloth in the hand while stitching. Frame or scroll bar is not used in this method. The needle is inserted into the fabric and pulled up from the other side, it is easy stitching style. One hand holds the fabric while other deals with the needle. The difficult thing in this type of sewing is that fabric is hard to control in the hand without a scroll or frame. This method is usually employed by experts and not recommended for beginners because canvas handling is difficult and an risk of fabric distortion remain.