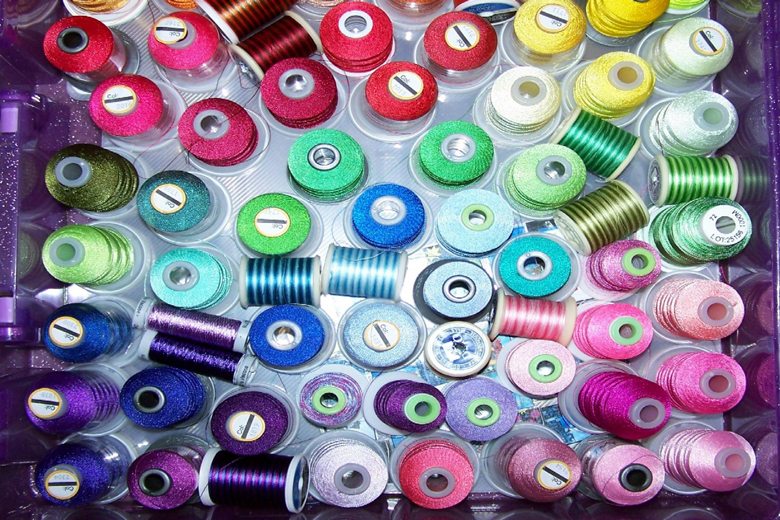 For many people, it would be the first time to use machineryembroidery at home. The brand of the machine matters, but what matters even more than that is the machine embroidery thread you are using. If the thread is not good enough, it is going to cause you a lot of problems while stitching and making designs. Different projects require different threads. You have to be considerate about the thickness of the thread and its weight if you are looking for one that fully covers the fabric.
For all those individuals who are new to this thing, there are 5 different threads that you will find when it comes to using machine embroidery:
Rayon
It is one of the most popular threads used for embroidery because of the sheen it creates. It is also quite sturdy so if you are required to perform high-speed embroidery, it can take the load. You can easily find this thread in different colors and variegated threads.
Cotton
It is also the most commonly used thread not just for embroidery, but stitching too. It is finest in terms of quality and it is available in different levels of thicknesses too starting from 30 to 120 weight. In case you need full coverage, choose the heavy cotton.
Metallic thread
If you are looking for a shiny or glittery design, metallic thread is what you need. It is not just available in silver or golden, you will come across plenty of color choices too. You can either fill the fabric with metallic thread or use it over the dimensions. Before you use it, experiment it with different threads so that you are sure the design you will make would look great.
Silk
It is one of the noble threads available and it is, of course, best on the luxurious fabrics. It is strong and smooth and it does not break like other threads in the middle of the embroidery session. It is expensive and you might not find it that easily. Only go for this type of thread if you are working on a special project and make sure that you have enough supply to finish the project.
Polyester
It is also a common type of thread because of its widely available and it is cheap as well. It is available in plenty of colors. It has a hard wiring and it is best to use on making designs for children clothing. It will not wear out even if the fabric is washed often.
It is important that you know what thread you are using. Some newbies end up using the normal swing threads for the embroidery projects and the results are always disastrous. The worst thing is that this can harm the embroidery machine.
Tips for Successful Embroidering
Once you have the best machine embroidery thread, your job is not over yet. The project requires special efforts from your side to ensure success. There are many things to consider further. Let's see some of them:
Keep the machine well maintained. You need to clean it regularly and once you do that, you will experience the difference in performance yourself. It is not a regular thing, you simply have to get it serviced twice a year. This will help in identifying the problems with the machineand the technician might lubricate it too for ensuring smooth running.

Start each project with a new needle. The selection of the right needle counts too. If you are working on a heavy fabric, the needle must be large and if you are working on a light fabric, the needle can be light. Always choose the appropriate size because in case you have chosen a larger size, it will leave big holes in the fabric and the whole beauty of the design will be ruined.

Use more layers of weight stabilizers in case you are looking for heavy stitches and you want density.

When you are working on dense embroidery designs, keep the speed slow otherwise you will lose control and the thread will go elsewhere.
With all these tips under your consideration, getting started on your embroidery design will become fun. You would love to use the machine for making the lovely design.