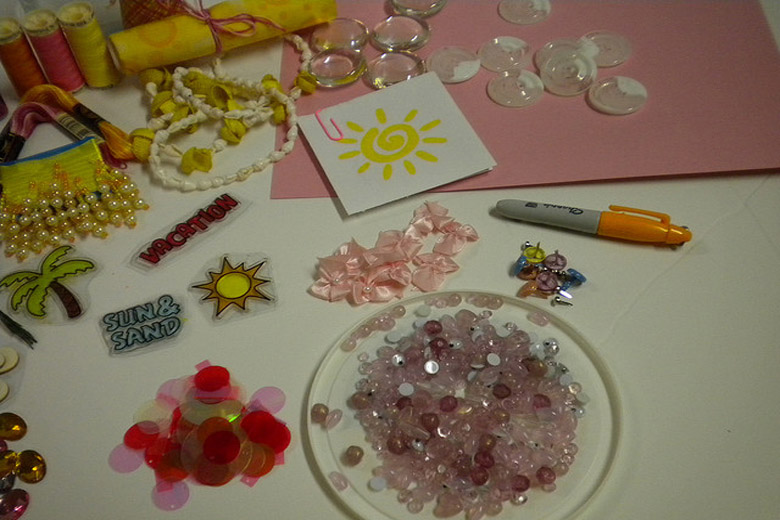 Stamped designs are very famous among females. It is a beautiful décor for dresses that is highly popular overall in the world. This is basically the category of cross stitch patterns. Cross stitch embroidery is world famous and highly implemented on household items, wearing and on stylized décor.
Stamped cross stitch kits are no more different than counted cross stitch kits. It is mainly consisting of the thread, needle, floss, hoop, Aida fabric, and instruction pack. Cotton or metallic threads are used in it. The most famous stamped patterns are designed for quilts. In the winter season, there is the vast variety of stamped quilts made up of cross stitch design.
Diversity in projects:
Some unique and common styles are being discussed here. There are many categories of stamped cross stitch designs and every type of kit is also available. Some designs are for fun; some for décor and other are for a functional purpose. Hand towel styles in stamped cross stitch, quilt styles, wall hanging, baby quilts, dresser scarf, crafts designs, pillow cases, crib cover, dinner call, birth sampler etc.
Stamped cross stitch kit for Santa Christmas hand towel; a decorated hand towel that is made up of cotton broadcloth. Additional requirements are a needle, floss, hoop, and an embroidery design guide. Some stamped cross stitch are for beginners i.e. for crafting purpose and easy to learn. For instance dolphin, delight is a fun project for children and easy to complete in three weeks. Its kit includes Aida fabric, cotton thread, needle and a 3-inch hoop for finishing and stitching.
Angel and bear design sweet quilt is available in stamped cross stitch pattern. Twinkle twinkle quilt designs are very adorable and snuggly for children. Hummingbird sipping nectar design is in very sweet and soft color style. Some Fuchsia flowers around which bird is hovering; kits comprise of a printed fabric, needle, cotton thread.
Meadow dresses scarf is a fabulous design that is made up of embroided flowers and colorful butterflies, dragonflies and floral spray. The kit comprises of a dresser scarf made up of cotton fabric printed with a washable ink, thread list, needle and guidelines that are easy to follow.
Heart and home stamped cross stitch kit is a pretty design that is designed in soft country colors with replicate motif style pair. The kit comprises of white printed sailcloth, easy guidelines for finishing, 6 inches diameter plastic hoop, cotton thread, needle, etc.
Pillowcases in stamped cross stitch designs have many types of kits. Huge colors and styles in variety are available. For instance, hummingbird, natural inspirations, meadows, shadow styles, nature paradise etc is famous and common. These are nature's splendid indoors, can use frequently for charming house gift, presents in several occasions. This kit includes printed two cotton pillow cases, thread lists with instructions, etc.
Crib cover with a popular design for the nursery, with saurus, is superb to commemorate new family member. Dempsey stamped pillowcases with a chicken scratch owl is among cute home décor accessory. These are stylized with beautiful embroidery, by selection of colorful threads and eye-catching contrasts. This kit contains thread, floss; hoop and poly blend pillow case.
Rose wine pillow cases, people edge butterfly pillowcase, Froggy pillow case, daffodil bouquet pillow case, lips & Mustache pillow case, laces & floral garland pillow case etc are very unique and charming pillowcase styles.
Spring sampler stamped cross stitch design is so beautiful and the kit contains needle, thread card, cotton threads, Aida of 14 counts, chart and easy guidelines. Birth sampler with stamped cross stitch design, are in various designs. Baby birth recorders are very beautiful for celebrating the new baby event.
Reading room stamped cross stitch kit is a décor accessory. The kit comprises of cotton embroidery thread, printed deign on white sailcloth, easy instructions, needle, and thread. It is charming one and will accent your room with cute and cool kitty.
Hearts wedding record stamped cross stitch kit is including cotton threads, lace stamped, and framed with flowers. It is meant to commemorate the special days, with eternal devotion sentiments. Kit further comprises of, cotton tan printed fabric, personalizing alphabets, charts and needle.
These are a few stamped cross stitch kits; there is a huge variety available in the market.