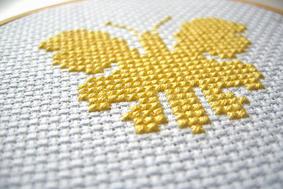 Things to know about Cross stitch fabric
Cross stitch fabric is a special kind of fabric made specifically for people who want to try their hand on cross stitch work or other kinds of needle works and hand embroideries. These fabrics have a special kind of pattern in them that guides you through the process of cross-stitching. This pattern is not in the form of ink but in the forms of holes that are punched through the fabric in pre-set design proportions. These holes are for the needle to pass through. They not only make the process of cross stitch relatively easy but also make your work quite neat. This fabric is available in various sizes and shapes and the holes of are also available in various sizes to help you make different kind of bold or intricate designs.
Types of cross stitch fabrics
There are two different kinds of cross stitch fabrics that are available in the market. These types are not much different in their structure or construction, but they differ from one another on the basis of color coordination and the way these fabrics are shipped out when you order them online. Today hand dyed fabrics are hard to find especially when you are dealing with delicate cross stitch fabrics. You can order these fabrics in yard long measurements if you are working on a big project and if you want to work on smaller projects then quarter to half a yard measurement fabrics are also available on websites online. You can pick the color scheme of your choice for the fabric dye. Also, watercolor design can also be embossed on fabric but you will need some expert help in this regard. The process of ordering them is fairly simple; all you need to do is put the order in on some of the most reliable websites that deal with all kinds of fabrics for cross stitch and needle works. In Charles Craft, the fabric is not just placed in a simple zip lock bag and shipped off. It is placed in a special role so that there are no folds in the fabric. This role is then shipped with proper packing rather than using zip lock packing. This is necessary when you are dealing with delicate fabrics like Aida Linen or other cross stitch fabric.
Fabrics are available in all kinds of forms, ranging from delicate materials like silk, pure chiffon, fine net to tough materials like that of leather or afghans or even materials for cushions. Similarly, there are different fabric options for you to choose from when it comes to picking a material for your cross stitch fabric. This fabric needs to be in accordance with the design you want to make and the place where you need to use it. For example the fabric used for the creation of designs on dresses should be delicate and pretty while that used for the creation of couches cushions should be tough enough to go through the wear and tear of daily use. The choice of fabric material is very crucial in the whole process of cross stitch work. If you have the right material then you have the ability to do the work just right without the issue of tearing the fabric or faulting your whole design.
Where to get these fabrics?
Today internet and technology has made it easy for us to track down the stuff we want in a matter of minutes and we can buy these products from these online markets that are available in the form of websites. The prices of these materials and fabrics differ from one another and the sizes of these fabrics are also taken into consideration when it comes to the price. The larger the size, higher the cost will be for the fabric. For thick and sturdy materials, the price range is different because there is a huge variety of material available in that category. These fabrics are easily shipped in special packaging to preserve the texture of the stitch patterns. This packaging is not added in the cost unless you want to custom make the packing for special materials like dyed fabrics with delicate material and smaller hole sizes.