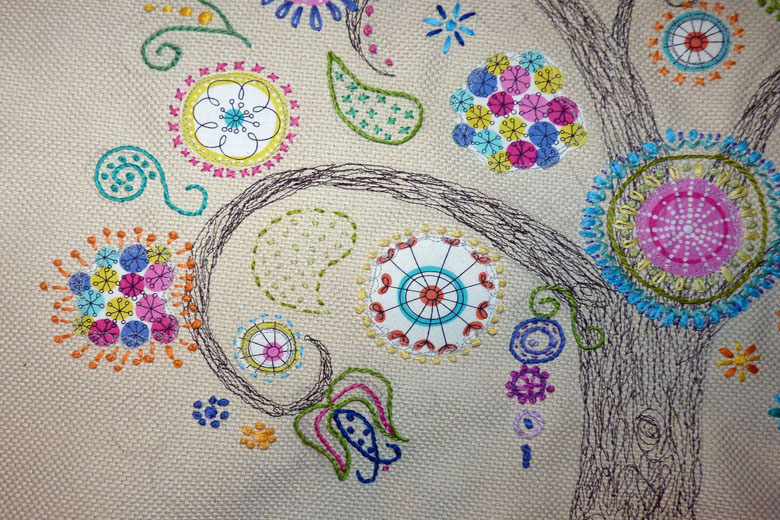 There are several types of hand embroideries available which you can use on accessories, clothing, towels, and household linen. Here are some of the common types of embroideries you will learn as a beginner:
It is one of the most commonly known type of embroidery. You need a special cloth for this purpose and you have to make x stitches on each square of the fabric for making a design. It is easy, beginners start with it because you simply have to follow the dots in the fabric for completing the whole pattern.
This type of embroidery is created on a piece of canvas which is completed by creating stitches. You will need a yarn for completing this project, but make sure that the yarn has its own texture. You can use either regular knit yarn or silk, metallic and even the metallic one.
This is another common type of embroidery that is being practiced for years. It is considered to be the most elegant form of embroidery as well. It is considered to romantic too because you can make perle cotton and floss touches.The pattern has to be decorative in case you want it to look good.
This type of embroidery started in the Henry VIII. You have to complete the design on white fabric using black thread. The straight weaves of thread have to be twisted for giving a thick appearance to the design.
This type of embroidery is famous from the medieval times and it originated fromItaly. Wool canvas is used and you are supposed to make vertical and upturned stitches. It contains stitches of different lengths and sizes. This type of embroidery is best used on pillows, carpets, and upholstery.
Choose the Hand Embroidery Patterns
It is easy to master the art of doing embroidery, but when you don't have any worthy design, it is hard to move to the next level. Fear not, there are plenty of free hand embroidery patterns available that can facilitate you in your project. Remember, there are other important things that matter too such as needle and thread. This will aid you in creating the best designs. The thread can be made from cotton, silk, jute or even stain. These threads will enable you to create bold embroiderydesigns. The next important thing is the needle. They are available in sizes 0 to 10. These needles are sharp and they have a medium length. If you are a beginner, then don't use canvas, you will not be able to handle it. Pick the easy patterns so that you don't lose your temper and confidence when completing the project. Just be creative and let your imagination run.
Fly stich, French knots, lazy daisy stitch, Roy stich, feather stich, stain stitch etc are some other designs that you can use for making the patterns. Just follow the pattern and you are going to come with the best design. It might get difficult to make up your own design in the beginning so make sure start with the hand embroidery patterns. They are easy and widely available.
Many free hand embroidery patterns are available these days and all you have to do is follow them to get started on your project of hand embroidery. In case it is your first project, you might have to experience trial and error, but do not worry, you are still going to love the final product. Once you are done with the embroidery, you can frame it up and hang it on the wall of your room. You can also gift it to your mother or grandma. They are going to love your piece of art.